Last Updated on February 3, 2023
Chatbots can help companies present themselves to their customers by giving them a profile. For many users, the chatbot is their first point of contact with the company, which can be far more personal than a phone or email conversation, and at the end of the day Customers often ask questions that are frequently answered and a FAQ chatbot can assist in providing the answers they require in an interactive manner.

This article will discuss the importance of FAQ chatbots and how to build a simple industrious NLP chatbot to have an optimal conversation with a user on WhatsApp using Kommunicate.

What are FAQ chatbots?
Basically, a chatbot is a text or voice-based UI that provides conversation services or information by simulating the feel of a person-to-person conversation. And organizations provide support by publishing FAQ sections to answer frequent or important user questions as its main purpose is to give quick and simple solutions.

When we combine these two functions together we can create a FAQ chatbot. A FAQ chatbot is a text-based UI interface that is typically used on a company website or across other third-party platforms to provide visitors with quick, uncomplicated answers to common or important questions as well as navigational assistance.
Why are FAQ Chatbots Important?
Many businesses have strong, well-designed websites and applications with all of the information and functionality that prospects, leads, customers, and clients need to interact with the brand and get things done. Furthermore, from the user's perspective, navigating through all of the sections to find their solution may be a time-consuming process.
FAQ chatbots provide a simplified interface that feels like a simple text conversation or social media direct message, and they invite users to supplement, supplement, or circumnavigate a website's traditional menu structure to ensure they can connect with the information they require.

Furthermore, AI-powered chatbots improve business operational efficiency and cost savings while providing convenience to customers. By automating FAQs, businesses can reduce the need for human interaction.
How to create a FAQ chatbot for WhatsAPP?
The following guide will walk you through the process of creating a FAQ WhatsApp chatbot with Kompose (A powerful NLP based chatbot builder provided by Kommunicate).
Create a FAQ Chatbot on Kommunicate dashboard
Navigate to your Kommunicate dashboard. If you do not already have a kommunicate account, you can create one here. Move to the Kompose bot builder category from the 'Bot Integration' section and select the bot to which you want to add the FAQ or create a new bot by selecting the 'Create Bot' button. If you haven't already created a chatbot you can start by reading our article on "How to Create a Chatbot."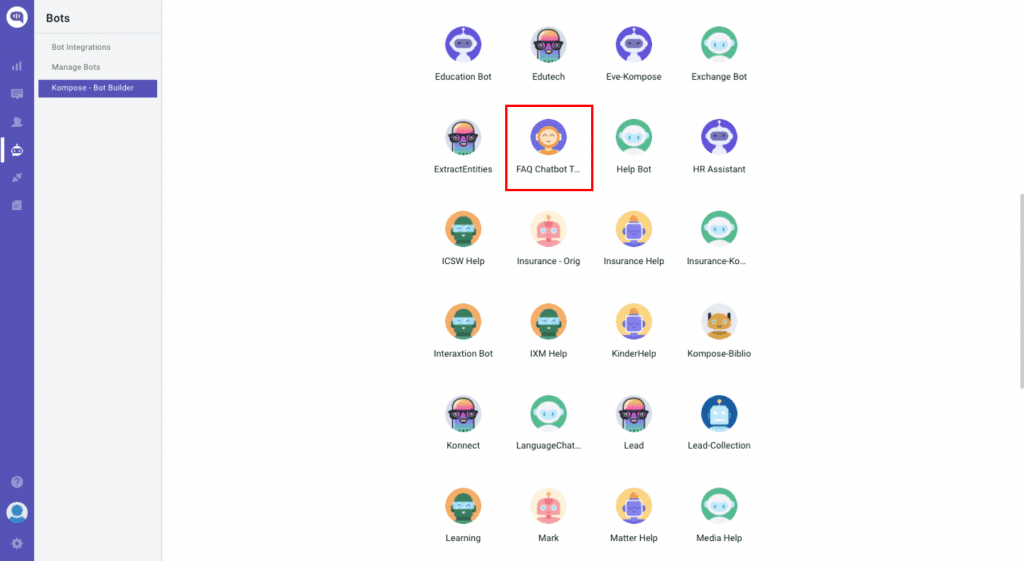 Create FAQ articles on Help Center
Navigate to the Helpcenter on the Kommunicate dashboard and add the content by creating your FAQs using a WYSIWYG editor. You have several formatting options available to you. You can also save the draft for later editing or publish it right away.
Note: When you create a FAQ, it will appear in your chat widget automatically. Your users can browse the FAQs by simply clicking on the FAQ button.
Connect Help Center with the FAQ Chatbot
Connect the created bot to Helpcenter in Kompose's 'Settings' and the bot will answer customer questions by pulling information from your articles and FAQs. Ensure that the conversation is assigned to the Kompose bot.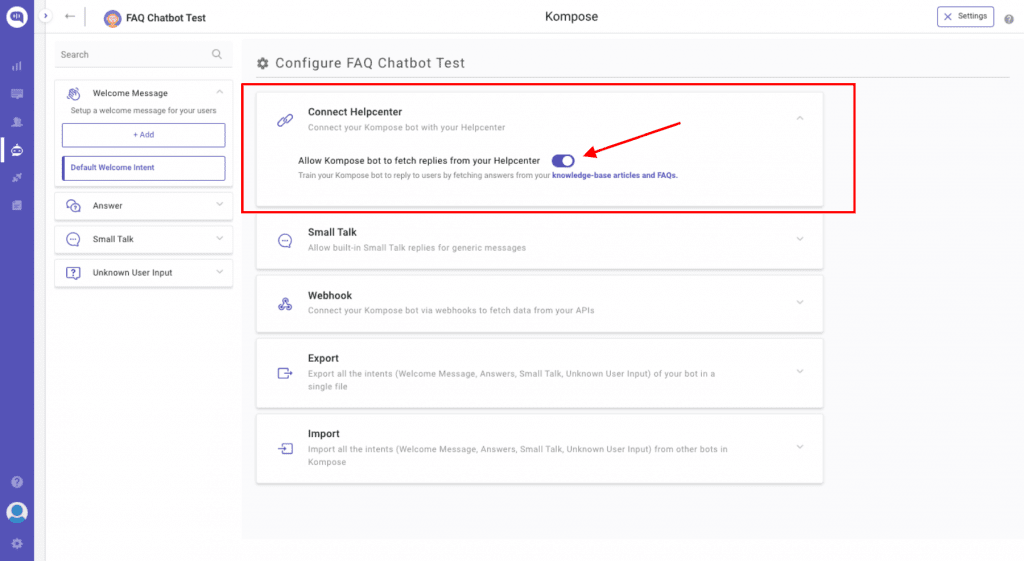 Create a WhatsApp business API and integrate with Kommunicate
You can connect your WhatsApp business API to Kommunicate and handle inquiries through the Kompose chatbot. Navigate to the 'Integration' section of the Kommunicate Dashboard and Request Access.

Fill out the Dialog 360 form to obtain the API key required to integrate with Kommunicate. When the Kommunicate support team receives the necessary information, we will assist you in linking your WhatsApp number to your Kommunicate account.
More detailed and step-by-step instructions for connecting WhatsApp API with Kommunicate can be found here.
Following the successful integration of WhatsApp into your Kommunicate dashboard. Any message you send to the 360 Dialog WhatsApp number will now be accessible via the Kommunicate dashboard.
Begin testing the chatbot and After you enable it, the bot will respond to users by pulling answers from your knowledge-base articles and FAQs. If the bot is unable to respond, it can route the conversation to one of your agents to take over.

Conclusion
Customer enquiries and behaviour can be identified via FAQ chatbots, which can help you better understand your customers' demands. If the potential of FAQ chatbots is explored further, there is a lot of room to increase customer service and satisfaction while also making customer navigation easier.

All right!! What are you waiting for? To build your own FAQ Whatsapp chatbot.
---
At Kommunicate, we are envisioning a world-beating customer support solution to empower the new era of customer support. We would love to have you on board to have a first-hand experience of Kommunicate. You can signup here and start delighting your customers right away.